Domo Sports Grass supplies artificial turf for Belgian Red Court project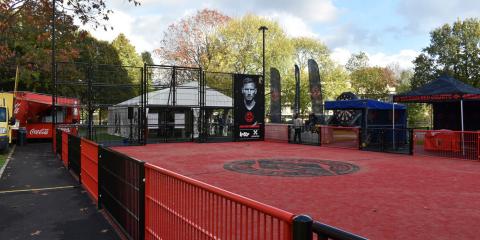 Official inaugurations with ambassador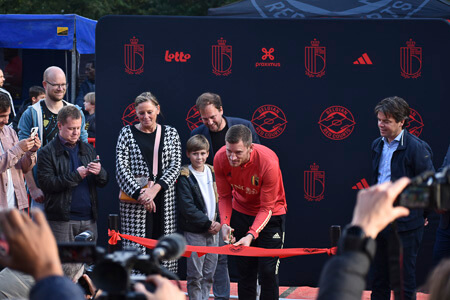 The unique aspect of this project is that each pitch will have a (former) Red Devils or Red Flames player as ambassador. Several official openings have already taken place this year. In May, the inauguration in the city of Lier, with Jan Ceulemans as ambassador. In October there was a second inauguration in the city of Sint-Niklaas with ambassador Jan Vertonghen. In November followed the inauguration in the city of Hasselt with ambassador Davina Philtjens, and the inauguration in the city of Bilzen with ambassador Thibaut Courtois and Julie Biesmans. Other inaugurations are also planned in the cities of Lokeren, Waregem, Halle and Genk. A further 15 Red Courts will be built in Belgium by 2023.
A Red Court in our backyard
Did you know that all Red Court sports fields are manufactured by Domo® Sports Grass? This makes the opening in the city of Sint-Niklaas the most special for us, as Sint-Niklaas is also our home base. The field is located less than 3 kilometres from our facilities, practically in our backyard. That is why we attended the inauguration in person. Everyone was enthusiastic and, of course, it was the youth's turn to try out the pitch. And the expected result was achieved: young people having fun together with a game of football. You never know which of them might become one of our best national players. Our Business Line Manager also shares his opinion on the project:

All young people deserve the opportunity to play sports. As a society, we should be able to offer this to them. That is why it is good that these kinds of projects are being set up and that several parties are joining forces to do so.
You have not yet given permission to place the required cookies. Accept the required cookies to view this content.
How do we work as your artificial turf partner?
Those who are used working with us know that we are a partner in supplying artificial grass sports pitches tailored to the needs of a project and the players. Flexibility is our greatest strength. Our factory has the flexibility to manufacture pitches in different shapes, heights and colours. We can offer large pitches and smaller pitches, as in this project. In short, all the characteristics of a pitch can be customised.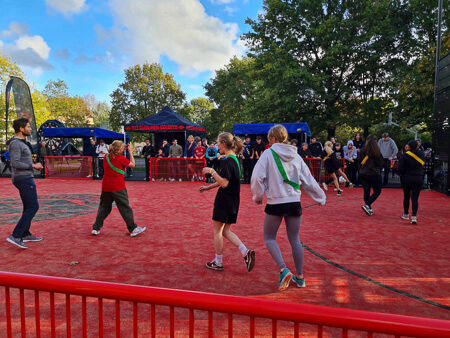 The intended purpose is for youngsters from the neighbourhood to come and play, so the artificial grass should be playable with all types of footwear. For the Red Court project, a short-pile, sand-filled artificial turf pitch was chosen. Since this is recreational football for young people, playing comfort is an important issue: "The more comfortable our artificial turf is to play on, the more attractive the sport will be for young people" - Jean Willems. In addition to the functional aspect, attention was also paid to the appearance. The red colour is already an eye-catcher and completely fits in with the Red Devil/Red Flame theme.
A professional network
J2F Sports Infrastructures Consultancy BVBA is the study agency for this project. J2F is an international agency offering consultancy, design, planning and other services in the field of sports and leisure infrastructures. The installations of the different fields will be carried out by our partner Lesuco. J2F, Lesuco and Domo® Sports Grass have been working together for many years on the installation of artificial turf sports facilities in Belgium. Thanks to this close cooperation of many years, we have been able to realise this beautiful project.

I have been working with the people of Lesuco and J2F for many years. We have established a good relationship. They are people who know their profession. We also get regular feedback from them so that we can continue to improve in terms of installation efficiency of our artificial turf
Jean Willems- Business Line Director
Domo® Sports Grass is convinced that this project can make a difference for young people. Playing sports has become a basic right and should be available to everyone.
Feel free to ask
Searching for personalised advice or technical information for your project?
Let us know how we can assist you by filling in the below form:
Subscribe to our newsletter
1 December 2022
domosportsgrass