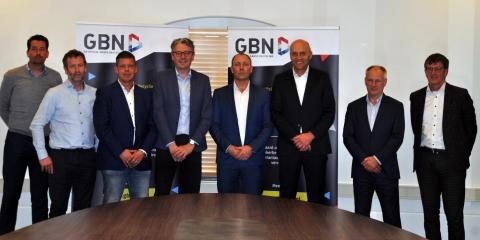 Foundation of GBN-AGR makes circular processing of artificial grass possible 
GBN Groep announces the establishment of GBN Artificial Grass Recycling B.V. (GBN-AGR). This company will open the first circular processing plant for end-of-life artificial grass in the Netherlands in the short term. GBN-AGR thus offers a sustainable solution to the urgent social problem with the intake and processing of old artificial grass. The intended location is in the Westelijk Havengebied of Amsterdam and is expected to be opened in the spring of 2020. In addition to GBN Groep, various chain partners are involved in the establishment of GBN-AGR.
At present there are no parties in the Netherlands that can collect and recycle old artificial grass in a clean, safe and sustainable way. As a result, a large number of municipalities, sports clubs and other organizations are left without options to dispose of old artificial grass responsibly, resulting in large artificial grass mountains at various unsuitable locations in the Netherlands. The newly established GBN-AGR now presents a concrete solution: in the short term, it will open a processing facility in Amsterdam where old artificial grass is processed into new, high-quality circular raw materials. The factory will soon offer sufficient capacity for both the current and future market volume. In order to stop further accumulation of the Dutch artificial grass mountain, GBN-AGR is already using old artificial grass at a temporary emergency location in Hoorn. This naturally takes place under the guarantee and certainty of sustainable and responsible processing.
This solution is unique in its kind and has a sustainable economic and environmental impact. GBN-AGR was founded by GBN Groep in collaboration with chain partners Antea Sport, Edel Grass, Ten Cate Grass Group, Greenfields, CSC Sport, Sports & Leisure Group and Domo Sport Grass. It is an initiative for and by the industry that comes from a collaboration between a number of parties who founded the Alliance of cooperating artificial grass suppliers and contractors at the beginning of 2019. The collaboration provides the necessary investments for processing sufficient volume of artificial grass. The scale that was lacking in previous initiatives is sufficiently guaranteed within this collaboration. Every party can supply old artificial grass material and thus contribute to circularity within the sector.
After opening its doors, the processing plant can immediately start circular processing of the artificial grass mats piled up in the Netherlands, including mats stored in GBN's temporary emergency location in Hoorn. There is therefore sufficient market volume for a solid business case, certainly also in view of the growing demand for circular raw materials from various sectors in Dutch industry. GBN-AGR will soon offer its Dutch clients a supply of new, circular raw materials that is consistent in both quality and volume.
The intended location is in the Westelijk Havengebied of Amsterdam, in the middle of the circular cluster of the Port of Amsterdam. The necessary permits have been applied for and the permit procedure is currently being followed through proper consultation with the authorities and authorities involved. The functions of the new processing plant fit in seamlessly with the ambitions of the circular cluster of the Port of Amsterdam. The latter also receives a number of important guarantees from GBN-AGR with regard to the processing process. For example, we guarantee high-quality recycling and we ensure that no artificial grass mountain is left behind at this location.
After the start-up phase, GBN-AGR works on perfecting the processing process, until 100% circular processing is achieved. The processing process is then provided with such quality that BRL certification becomes possible, so that customers and buyers of circular raw materials can be guaranteed a fully transparent and high-quality process. In the context of transparency, GBN-AGR will also publish an annual impact report, which among other things indicates how many square meters of artificial grass have been processed, to which raw materials or products the artificial grass has been processed and where the products have ended up.