Successful FSB2021 edition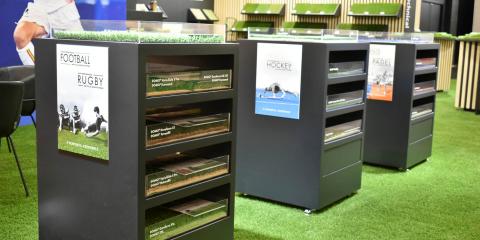 It was finally possible again! 
After 1.5 years, we were glad to be able to organise a trade fair again, and one of the most important in our industry: FSB Cologne from October 26-29 in Germany. It was a great reunion both with our customers and with the employees who work from all over the world.
Domo® Sports Grass took the opportunity to present its new sustainable approach to the general public. After all, we want to bring sports systems on to the market where performance, athletes and ecology are completely in balance.
Our customers were able to experience a preview of two new products that will be officially launched soon. One of them is the new innovative hybrid system Domo® Verdemix which ensures a faster installation with an excellent and resilient fibre. But our new backing Domo® Infinitum attracted all the attention, the backing ensures that fields are 100% renewable at the end of their lifespan in closed-loop recycling. With this new backing, we are taking the lead within our industry in the development of fully ecological sports pitches!
In addition to these two new products, we have also built up a strong Environmental- Social Governance programme within every link of our production process: from R&D, supply chain, production, installation all the way through to end-of-life processing. As a shareholder of the GBN-Artificial Recycling plant, we can ensure that old artificial grass systems are fully recycled. Our efforts have earned us a gold medal from EcoVadis, which we are very proud of.
Were you not able to join us on FSB last week? 
Don't worry, join us on social media to be the first to discover our new innovations and we will make sure you are on the front row!
Contact us
Would you like to be contacted to talk about your project?
Fill in the details below and we will take care of it.
Subscribe to our newsletter
5 November 2021
domosportsgrass