Domo® Sports Grass is FIFA Preferred Provider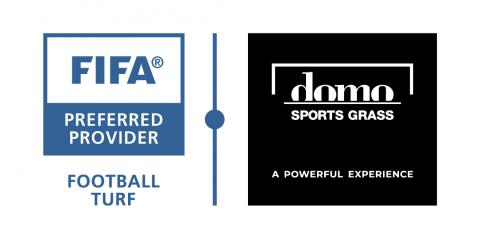 One of the key pillars at Domo® Sports Grass is quality. In order to continue guaranteeing our quality, we work closely together with several universities and laboratories recognised by governments and sports authorities including FIFA. Domo® Sports Grass is recognised by FIFA as Preferred Provider, a worldwide title that is only reserved for a few artificial grass producers.
In this context, it has developed two quality standards in consultation with the FIFA Preferred Provider companies. The FIFA QUALITY label is awarded to so-called community and amateur pitches. The FIFA QUALITY PRO label is allocated to pitches that deliver the highest performance for professional football.
Companies delivering football fields of the highest quality, not only at product level but also in the installation process, can be appointed as FIFA Preferred Provider. The general objective for Preferred Providers is to protect the project owners and especially the players and to ensure that football pitches meet the highest requirements in terms of quality, performance and safety.
Domo® Sports Grass has already been appointed as FIFA Preferred Provider since 2015. Domo® Sports Grass and the FIFA governing body work together and share the goal of establishing and promoting a universal international quality standard for artificial grass football pitches, both at the professional level and the community level. With this title, we also have the privilege of participating in regular meetings regarding the improvement of the quality level for artificial grass within the football sector.
The result of this collaboration is that we continue to achieve excellent results despite the requirements becoming stricter every year. Domo® Sports Grass has the necessary expertise to make the right choice in every chain of the process, including the substructure, product, installation and maintenance of an artificial grass sports pitch. This expertise is only the result of long-standing commitment and hard work.
In addition, there are also companies that are classified as FIFA Licensee. These companies do not have the same decision-making power and therefore act at a lower level in the development of the quality program developed by FIFA.
Subscribe to our newsletter
15 April 2021
domosportsgrass