Official partner of World Padel Tour Mexico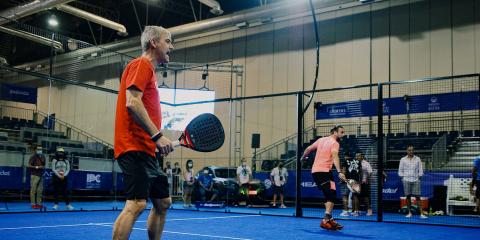 From Friday 18 February to Sunday 20 February, the World Padel Tour Mexico took place in Acapulco, the birthplace of padel. On the occasion of the Expo Mundo Imperial and the 50th anniversary of the padel discipline, some of the world's best players travelled to Acapulco to present the public with some exciting padel games. 
First of all, we want to congratulate the winners. In the men's tournament, Argentine Hispano couple Arturo Coello and Fernande Belasteguin won against Pablo Lima and Maxi Sanchez in the final. In the ladies' category, Alejandra Salazar and Gemma Triay are the rightful winners.
Official Domo® Sports Grass padel court
The Domo® Padel PE/M pitch was already the official padel court at the last WPT CDMX Open in Mexico city in December 2021 but this edition we lifted to a higher level. In addition to supplying the court, Domo® Sports Grass is now the official partner of World Padel Tour Mexico. 
What makes Domo® Padel PE/M the perfect court for tournaments?
The secret lies in the shape of the very dense texturized monofilament fibres. Thanks to this technology you get a faster game with maximum security where the professional player can perform to the full. In other words: fun for the players, excitement for the crowd. 
Join the worldwide experience
With Domo® Sports Grass, you have a partner that builds padel courts for the biggest sports tournaments in the world. You can count on the ideal balance between top quality, high sports performance and durability. For over thirty years, athletes all over the world have been getting the best out of themselves on Domo® Sports Grass sports facilities.
We are looking forward to the next World Padel Tour tournament in Mexico from 21-27 Nov 2022. Domo® Sports Grass believes in the padel sport and will continue to develop technologies so that players can continue to improve their performance.
Everyone into padel
Contact us
Would you like to be contacted to talk about your project?
Fill in the details below and we will take care of it.
Subscribe to our newsletter
28 February 2022
domosportsgrass