Our message is crystal clear, and is central to everything we do: striving to develop artificial grass pitches of outstanding quality. Moreover, we believe that sports pitches should not only provide the best performance, but also reflect respect for the environment. Our goal is therefore to offer sports pitches in artificial grass where top quality, excellent sports performance and sustainability are fully balanced. And we are proud to be able to show at a trade fair like FSB that we can effectively deliver this.
The most sustainable artificial grass solution for football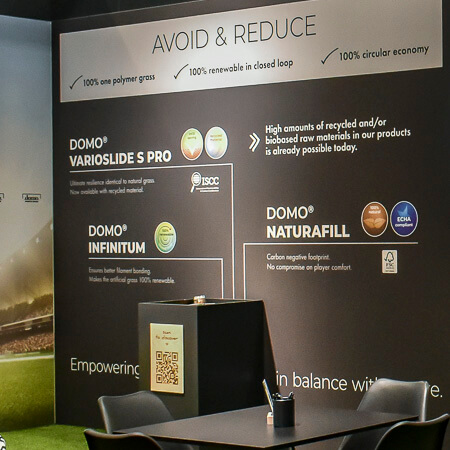 These days, we are overloaded with all kinds of messages and initiatives around sustainability. This can sometimes be overwhelming and makes it difficult to keep seeing the forest for the trees. Domo® Sports Grass is aware of the challenges posed by this flood of information. To support our customers, we have therefore shed light on the ideal sustainable solution at the FSB trade fair: Artificial grass Domo® VarioSlide S Pro, which is 100% single-polymer and 100% renewable in a closed loop when produced with Domo® Infinitum backing. This combined with the use of post-consumer recycled materials takes us towards a 100% circular economy. In addition, Domo® Naturafill is and remains our preferred natural infill that is fully ECHA-compliant. In addition, a Domo® VarioSlide S pro artificial turf pitch, Domo® Infinitum, completed with Domo® Naturafill, offers players a playing surface that replicates the look and feel of natural grass. This means that it is not only the best choice in terms of durability, but also the best choice for top clubs or clubs that want to experience a natural game but with easy maintenance.
For the first time: the Climate-Neutral certification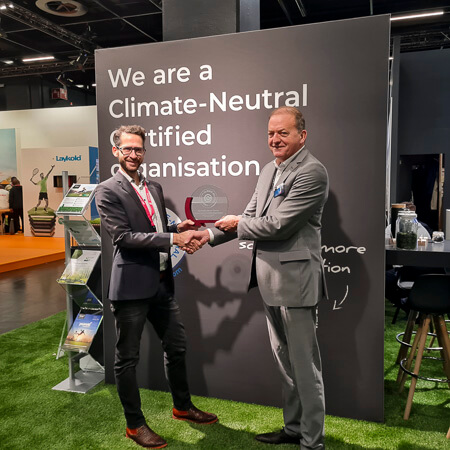 At the FSB 2023 exhibition, we proudly announced for the first time that we are a Climate-Neutral certified organisation. This prestigious recognition is awarded by Climate Neutral Group, audited by independent auditors. An official moment was organised during the fair to receive this prestigious award. This allows us to show the world that we have taken our commitment to sustainability to an even higher level. We are proud of this recognition and eagerly look forward to the further challenges and opportunities ahead in the field of sustainability.
A cheerful reunion with suppliers, partners, and customers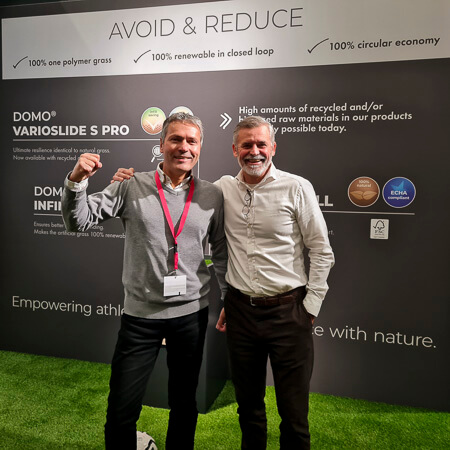 Of course, the best moments at the FSB trade fair are always the meet-ups with our trusted suppliers, valued partners and customers. At Domo® Sports Grass, doing business goes beyond simply carrying out transactions. We are committed to building long-term and transparent relationships based on trust and mutual understanding. After all, cooperation is the key to success. New customers also found their way to our stand. We are already eager to work with them on their new projects.
We conclude that the FSB 2023 fair was undoubtedly a great success for Domo® Sports Grass. This is only thanks to the daily efforts of all our employees, the trust of our customers and the collaborations with our suppliers and partners.
The FSB trade fair remains an essential platform for professionals in the sports and leisure industry to meet, exchange ideas and discover innovations. In the future, Domo® Sports Grass remains committed to delivering high-quality sports surfaces in artificial grass that meet the needs of sports enthusiasts around the world.
Feel free to ask
Also brought a visit to our stand and looking for more information, advice, or support for your upcoming project?
Let us know how we can be of assistance by filling in the form below: