Domo Sports Grass presents its new hybrid system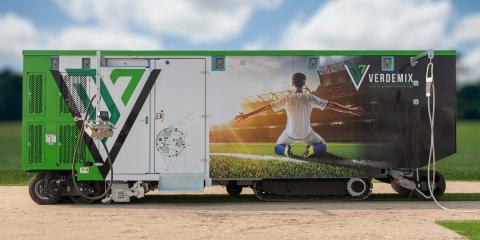 When buying a sports pitch, what do you have to choose? Do you choose for natural grass or artificial grass? Natural grass is chosen by its look, feel and playing comfort but the disadvantage is that frequently used natural grass pitches often do not make it until winter. By the end of the season the natural grass pitch becomes a muddy area resulting in a loss of playing quality. Artificial grass pitches are therefore more durable, ensure better resilience, are perfectly levelled and above all, they are playable all year-round regardless the weather. What is missing for football clubs in this case is the authentic experience of playing on natural grass.
Don't choose and don't lose
Why should you have to choose when you can have both? Domo® Verdemix offers football clubs high-quality hybrid sports pitches in a new and innovative way. The hybrid system is created by injecting synthetic fibres into natural grass pitches. Thanks to this injection system, the roots of natural grass adhere better to the synthetic grass fibres, thereby creating a stronger surface. A stronger surface means longer playing hours, more safety and stability and less maintenance costs.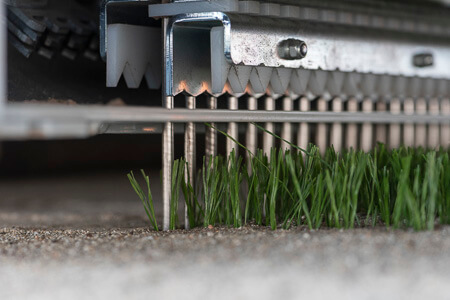 Domo® Sports Grass Technology
The key to the success of Domo® Verdemix is the combination of two technologies. The first is the special diamond shape of the fibre that makes it jump back upright after tension has been applied. The fibre also provides visual coverage of the playing surface, even in periods when the natural grass is under heavy pressure.
The second key is the Domo® Verdemix self-propelled injection machine, which uses the latest technology. The high speed of the machine means that a complete field can be delivered in 12-13 days. Another big advantage is its flexibility, so that the injection depth can be adjusted to the customer's needs.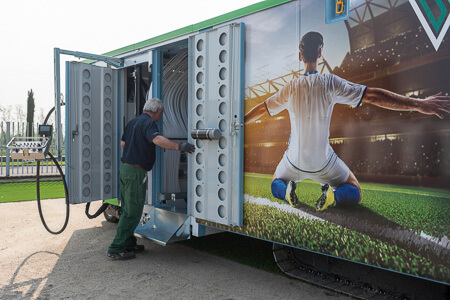 Domo® Sports Grass is already a worldwide specialist in artificial sports systems and already has the hybrid Domo® Fusion Grass in its product range. We are therefore proud to be able to expand the hybrid range with this innovative Domo® Verdemix system. This proves once again that we focus on the needs of our customers and offer them appropriate solutions.
Would you like to be contacted to talk about your project?
Fill in the details below and we will take care of it.
Subscribe to our newsletter
17 September 2021
domosportsgrass