From 14 to 17 September, the biannual GaLaBau Fair 2022 took place. Domo® Sports Grass was present alongside our sister leisure brand Fungrass. The focus at this fair was mainly on sustainability. As a result, our new 100% renewable Domo® Infinitum (PE) backing was awarded with the GaLaBau Innovation Award 2022.
Your guiding light in sustainability
We recently blazed a new trail when it comes to sustainability. From now on, you can recognise all our ecological products by our own eco-quality logos. The purpose of these logos is to guide customers in choosing their ideal artificial grass in relation to the environment. Did you spot them on our stand?
The complete ecological solution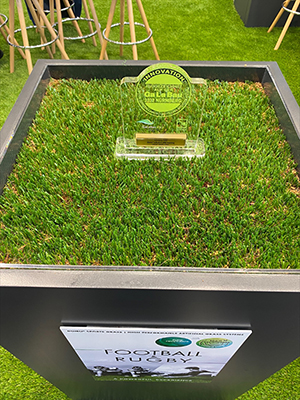 Domo® Sports Grass wants to offer customers total artificial grass solutions. The total solution presented at GaLaBau is a system that is 100% renewable (Domo® Infinitum), has 100% organic infill material (Domo® Naturafill) and has a specific fibre technology to prevent infill loss (Domo® VarioSlide S Pro). All elements of this system have been developed with the environment in mind, without overlooking players' performance and comfort.
GaLaBau Innovations Medal 2022
Our new 100% renewable (PE) backing Domo® infinitum was awarded the GaLaBau Innovations Medal 2022. This is a great recognition for all our employees who give their best every day to provide our customers with the highest quality and most innovative products. 
GaLaBau awarded our product for the following reason:
"A Domo® Infinitum artificial grass pitch is one material (PE), recognisable by its white colour. This makes it possible to process an artificial grass pitch into pure granulates at the end of its service life, which in turn can be reused for the production of new artificial grass pitches. The product is an improvement from an ecological point of view, as it thus succeeds in creating a closed loop recycling." 
The official presentation was made by members of the Presidium of Bundesverband Garten-, Landschafts- und Sportplatzbau (BGL) e.V.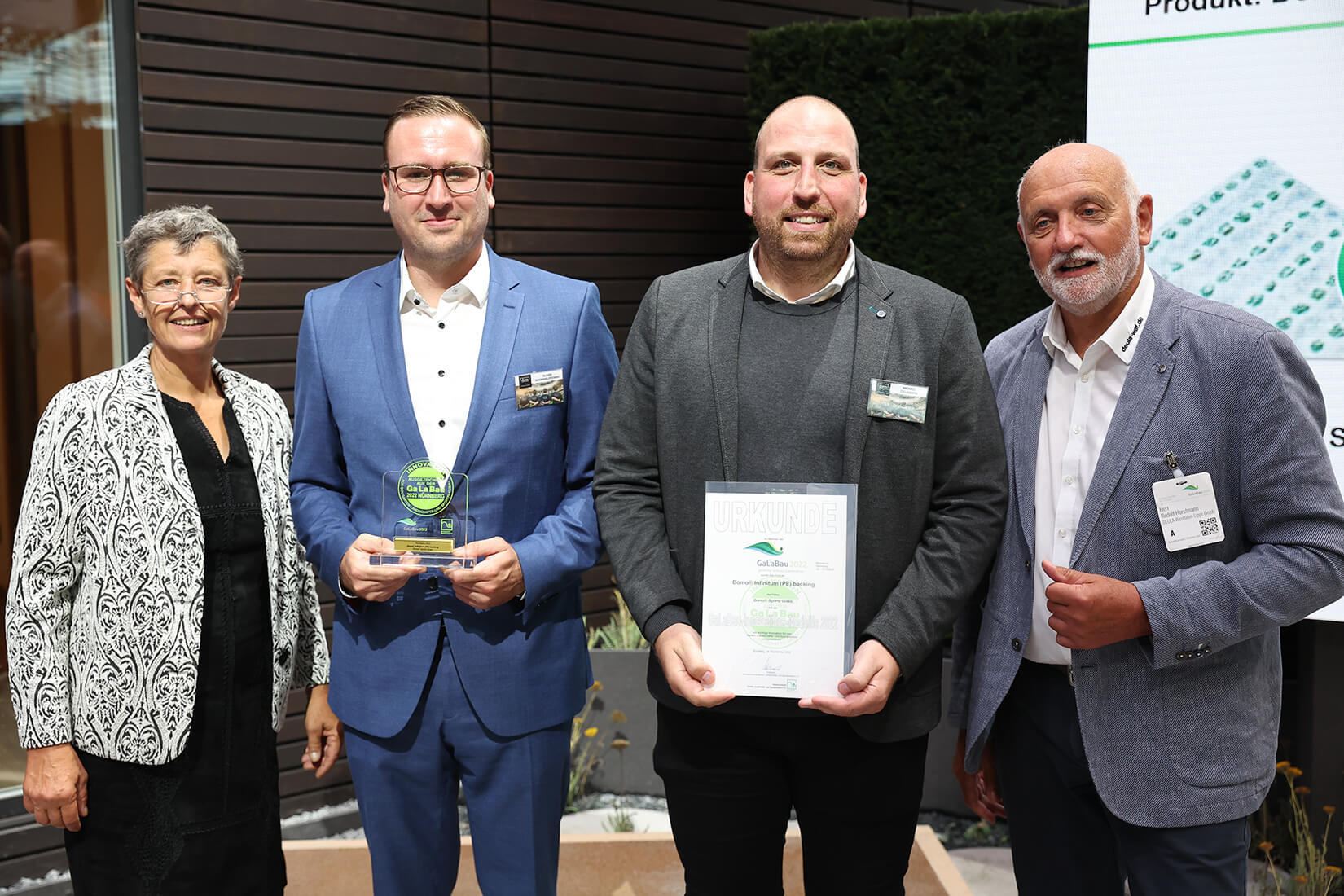 For our staff, it was a happy reunion with customers and industry contacts.
We look forward to the next edition.
 
Contact us
Would you like to be contacted to talk about your project?
Fill in the details below and we will take care of it.